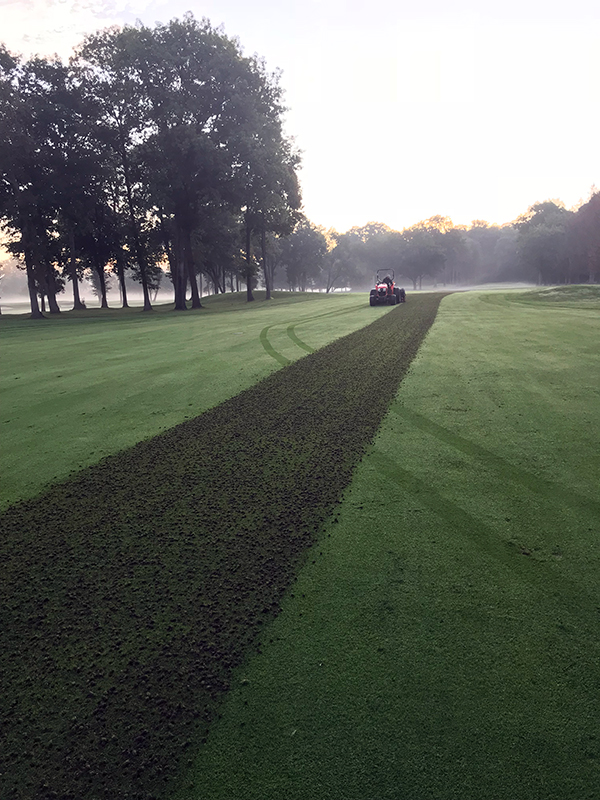 Fall is now officially here. With the change in seasons and the cooler temperatures it's time to start shifting our focus to promoting turf health, not only for the remainder of the season, but for the future as well.
Below is a brief outline of the cultural practices we will be completing on the golf course over the next month. For a more in-depth explanation of each of the processes to be completed, please take a moment to refer to previous blogs published in the fall of 2017.
Fairway Aerification
What are we doing?
The first tee will close at 11:00 am on October 1 to allow staff to aerify as many fairways as possible before dark.
If rain is forecasted on October 1 the first tee closure will shift to October 2 or until drier weather is forecasted.
Cores will be pulled (0.75" hollow tines) on all fairways.
The cores will be busted up returning the bulk of the soil.
The remaining thatch (plant material) will be harvested and disposed of.
Fairway topdressing is scheduled for the week of October 15.

Fairway topdressing helps create smoother, firmer surfaces. Over time, regular topdressing can help reduce earthworm activity.
Greens Aerification
What are we doing?
As weather permits, we will begin aerification during the week of October 9-12.
While greens are being aerified, temporary greens will be setup in front of each green.
Pulling cores (0.5" hollow tines).
Verti-drain (0.5" solid tines at 8-10" depth).
Slit seed to increase the bentgrass seed population.
Heavy topdressing to fill aerification holes, improve smoothness and firmness.
Tees Aerification
What are we doing?
Tees will be aerified the week of October 15.
Each day we will aerify a number of tees, disruption to play will be minimal.
Pulling cores (0.5" hollow tines).
The cores will be harvested and disposed of.
All tees will be heavily topdressed following aerification.
Why do we do all of this?!
The major cultural practices (aerification) that we perform in the spring and fall are crucial to maintaining healthy soil and turf not only in the near future but for the long term as well.
If we have some luck with the weather both during and after aerification we should expect a speedy recovery!
Driving Range
As cooler temperatures become more consistent the rate of growth on our range decks will slow to the point that we will no longer be able to recover turf quickly enough to keep up with play. At this point we will shift play back to the mats for the remainder of the season. We anticipate that this will occur around October 15. After the turf decks are closed for the season, staff will be able to complete a variety of cultural practices to help the decks recover from the current season's wear and tear as well as help prepare a perfect playing surface for next season.
Trees
Starting October 1, crews will begin removal of the affected spruce trees. Separate crews will be working on pruning our existing tree population for long term health and playability. Towards the end of October, we will begin planting new trees as per the planting plan. Over the next week the new planting plans will be made available for review both on the club website and in the lower level of the Clubhouse.
As always, if you have any questions please be sure to contact me at your convenience.
---
---