As we prepare to crown our Club Champions, I wanted to take a minute to highlight many recent accomplishments by several Credit Valley members and staff. You continue to raise the bar for excellence at the Club!
Everyone participating this weekend should take pride in these CV accomplishments. Hopefully these successes will help to motivate you to some successes of your own.
New Tour Presence at Credit Valley – Aspiring Golf Professionals
Many of our members have no doubt already met Pri Singh and Ryan Borg, two aspiring tour professionals. Ryan has recently graduated from the University of South Florida and is looking to earn status on the Web.com/Mackenzie Tour for 2018. Pri has also recently graduated from the University of South Florida and has similar goals. Pri made it to final stage qualifying for the US Open this year and was paired with Adam Scott. Although he didn't make it to the Open, this experience, along with many others will help them both hopefully reach their goals. Both Ryan and Pri are being sponsored by the Club with practice range and playing privileges and will be assisting us with our juniors as a way to give back to the Club. Here they are decked out in their CV gear which they will proudly wear whenever they are playing in tournaments. If you would like a game with either of them, please contact the Golf Shop.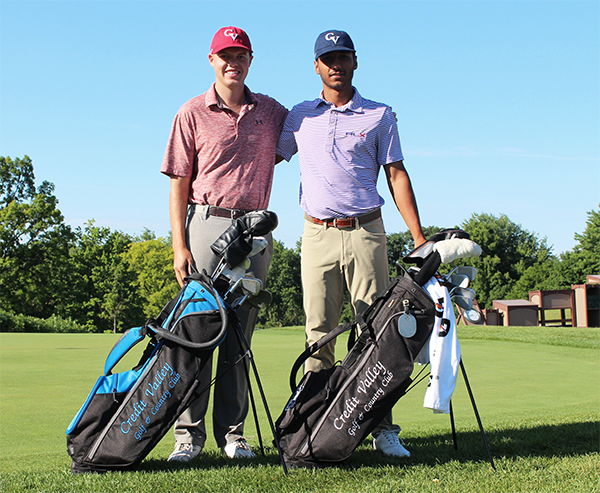 Watch for both of these fine young gentlemen around the Club and coming soon to a tour near you!
Ladies' PGA Championship of Canada
The Ladies' PGA Championship of Canada was recently held at the Ladies' Golf Club of Toronto, and once again, there was a distinct CV connection. Having hosted this National Championship in 2008 and most recently in 2016, we are thrilled to let everyone know that our own Casey Ward finished third among the Club professionals in the field (congrats Casey!!). Equally impressive was the other connection in this event with CV member Paul LeBlanc on the bag for the winner of the event, Jessica Porvasnik. Jessica is a touring professional who is affiliated with Grandezza Golf & Country Club in Fort Myers where the LeBlanc's spend their winters. Jessica spent the week prior with us at CV practicing in preparation for the Championship. See below for a photo of Paul and Jessica: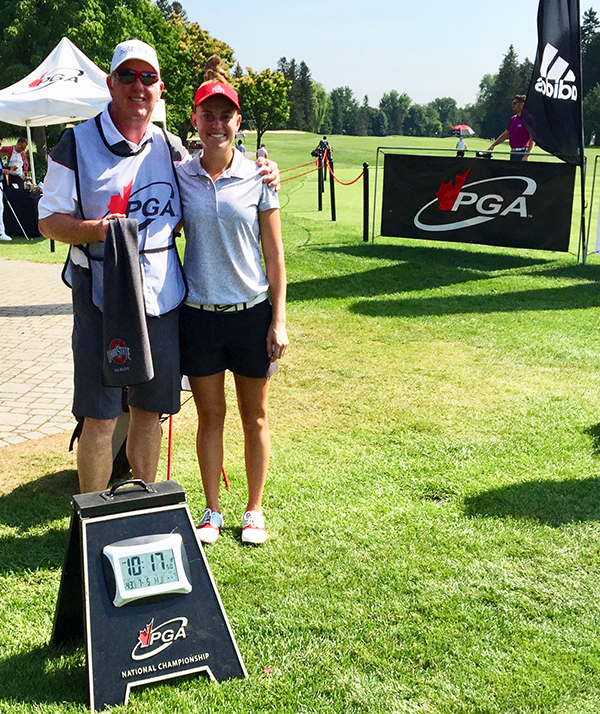 More Junior Success
Also, as I am sure you have already heard, Credit Valley has both the Boys' and the Girls' Peewee Ontario Golf Champions for 2018: Vanessa Borovilos and Alex Long! See them hoisting their hardware below: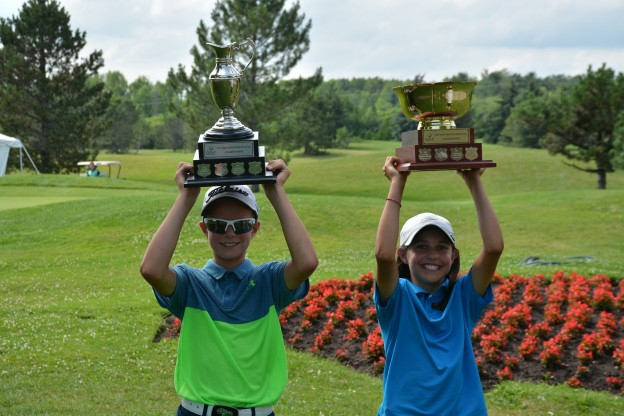 Keep that excellence rolling! Our own Doug Lawrie, who has been coaching Alex and Vanessa, recently had a third student, Nolan Piazza win the Ontario Junior Boys' Championship as well! Congrats Coach Doug – well done. In this event, CV's Matthew Anderson finished second and CV's Robbie Latter finished tied for 11th.
The future looks bright at Credit Valley! We look for more of these stories to come as we watch and cheer on the continued success of our juniors and our sponsored aspiring professionals; and good luck to all participants this weekend!
---
---