With the end of the year and consistent winter weather in our sights, efforts are well underway to push ahead on existing outdoor projects as well as planning for additional indoor projects to take advantage of what is typically a quiet time of the year for member activity at the Club. Please read on for project updates and exciting initiatives.
Clock Update
Last week we took delivery of our new Verdin clock. It is currently being safely stored in our greens maintenance facility while work begins on the clock base. Depending on the weather over the next couple of weeks we may be able to install the clock. Considering how late it is in the year the clock base and associated landscaping will be completed in the spring.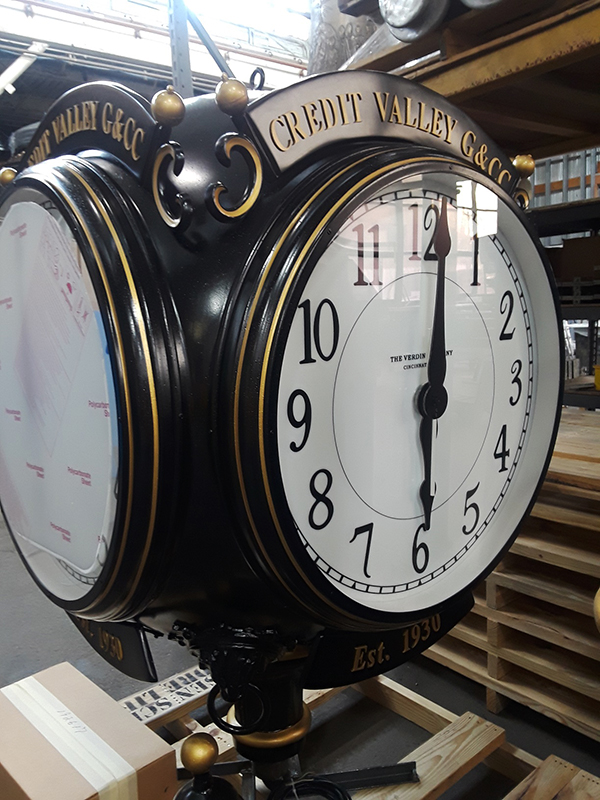 Over the next couple of weeks, Craig DiSero will be completing the proofs of the donor plaques. If you haven't confirmed with Craig how you or your family would like to be represented on the plaque, please email Craig directly or call him at the Club at extension 227.
Inclinator Update
Over the past couple of weeks, work has begun on the inclinator. Crews have recently dismantled the old cab to prepare for installation of the new cab within the next week. At the bottom of the track crews have been busy constructing a retaining wall to protect the track from erosion and accumulation of debris, a common sticking point with previous TSSA inspections. We do not expect to finish all work on the inclinator this fall/winter, but we are optimistic that all work will be completed before the beginning of the 2020 golf season.
January Clubhouse Closure
Each new year we shut down the Clubhouse for a week in early January. This upcoming shutdown is scheduled for January 6-10. This will be a very busy week for staff and contractors as we will be upgrading and converting all lights in the clubhouse to state-of-the-art LED lighting systems. This upgrade will qualify the club for energy rebates. The predicted energy savings will pay for this lighting project in less than four years. There will also be operational savings and efficiencies with this project as there will be fewer burnt out lights taking less time for staff to replace and fewer bulbs to be kept in our inventory.
Other projects to be completed:
Addressing hallway ceiling cracks, leaks and paint finishing deficiencies.
Replacing men's locker room counters that have become stained and cracked.
Replacing shower hardware in the men's locker room.
Repairing daily wear and tear on mill work throughout the Clubhouse.
Changes to the Pro Shop floor plan to increase merchandise space (revenue opportunities), operations efficiencies and improving the overall member experience.
Later in the new year, several of our roof mounted heating and air conditioning units will be replaced. All units to be replaced are beyond their useful life span and have been identified for replacement by our recent capital reserve study. Replacing these units will qualify the club for several energy rebates and significant energy reductions that will be monitored by our circuit meter system. Once these savings can be quantified, they will be accounted for in future operating budgets.
It is important to note, that the current state of these units contributed to over $25,000 in unbudgeted repairs over the past year. The aforementioned repairs and replacements will also address ambient humidity and air temperatures on the pool deck that have detracted from enjoyment of the pool as well as causing unsightly paint peeling and components rusting on the deck. As aquatic programming allows, the pool surface will be refinished to address recent peeling as well.
Please stay tuned for updates on these projects as they are completed in the coming months.
On behalf of the all of the staff at Credit Valley, we wish everyone a happy and safe holiday season.
---
---